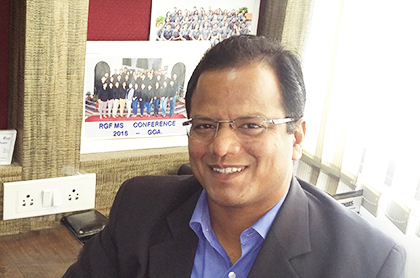 Suby Mathew is currently the Associate Director at RGF Management Search in Pune, India. Suby engineered a bold career move and took on the challenge of helping build a new RGF team in India. Leading the way and setting the high standard for future leaders of the business, Suby is looking forward to more global growth as a trusted partner.
How did you start your recruitment career?
Recruitment was an unusual choice for me, as I spent 14 years selling high value automatic machinery and equipment. However in 2007 I was looking for a new role and was contacted by a recruiter about an interesting position. I went through several rounds of interviews and discovered that they were looking for an internal hire. It was a big career change for me, so I sought advice from professional friends, then decided to make the leap. From there I moved to another small recruitment company, NuGrid Consulting, which became part of RGF in 2013.
What is RGF like today?
When RGF took over Nugrid we were a team of four, and have expanded to have more than 50 people across seven cities in India. I've really enjoyed being part of this growth and seeing the RGF brand develop here. This steady expansion across the globe is very encouraging and reflected in the way RGF invests in its people, with opportunities to network and learn more about our worldwide presence. We're encouraged to work with our counterparts in different companies. I was invited to launch celebrations in Tokyo and Mumbai, and also attended a Leadership Academy in Singapore.
Has your role changed?
I've enjoyed plenty of career progression here. I started in performance and business development and after a year I was recognised as a leader, so started to build my own team. In 2013 I set up the Pune office during the RGF acquisition and also head up the Auto/Engineering/Process/Industry and Logistics sectors in RGF across India. If you're a good, consistent performer then you get recognised, rewarded and promoted. It's this attitude that helps us attract and retain new talent and future leaders.
What's your team like?
I have four people in my team, one in Mumbai and three in Pune. Everyone is energetic and eager to learn, and all of them have extensive knowledge in engineering and manufacturing. I ensure that they have everything they need to be effective in client and candidate engagement. In turn, they support each other to be more successful.
What's helped you be so successful?
The ability to research, analyse and validate is essential in identifying the right candidates at the earliest stage. After that I use my strong communication skills – knowing the right questions to ask to get all the information I need. I also prioritise customer service to ensure clients and candidates get timely feedback.
Where have you had most success?
Going from a newly acquired business in 2013 to number one office in management search in 2015 was definitely a highlight for me. Helping the team achieve such a great performance was very rewarding. In terms of placement, it would be success in retaining a Head of Legal for an Indian multinational conglomerate. Due to organisational restructuring there was a period of 11 months where we had to keep the candidate waiting. However our excellent service ensured that the candidate was still willing to join. This led to us becoming a trusted partner for the company, with many more successful placements.
Do you have a typical day?
After an early start and time with my children, I'm usually in my office by 9am, ready for our daily team meeting. We tend to have lunch together, or sometimes take a break from work – it's good for bonding. After a busy afternoon I'm back home by 7pm to enjoy quality time with my family. Once a week I also travel to Mumbai for meetings. It can be a demanding role, especially with frequent travelling, but I have a very supportive family and a great work–life balance.
What do you enjoy about RGF?
RGF has injected excellent vision and values into the business. I feel more organised and have the support to take on responsibility. Working for RGF also brings exposure to global challenges and has opened up the opportunity to work as preferred consultants across the world.